past events:

Book presentation
Martin Neukom: Signals, Systems and Sound Synthesis
(Translated by Gerald Bennett)
Wednesday 16. October 2013, 20:00
Cabaret Voltaire, Spiegelgasse 1, 8001 Zürich

–––
Zwei Tage Strom - Festival für elektronische Musik
21./22. 6. 2013
Kunsthalle Zürich / Exil Zürich
SAMSTAG 22. JUNI
KUNSTHALLE, 13.30
Ginger Ensemble (CH)
Thomas Peter (CH)
band: Petra Ronner & Annette Schmucki (CH)
Thomas Rehnert (D)
Strotter Inst. & Jorge Sánchez-Chiong (CH/Ven)
–––

Yves Netzhammer & Bernd Schurer - Smell of Animal
24.05.13 - 30.06.13
Show/exhibition
K11 Art Space Shanghai, China

–––


Marcus Maeder
électronique
@ptt #46
11 Mai 2013, 21:00
@ptt, Geneva

–––

Thomas Peter
Solo Concert
18. April 2013 - le cabinet, Geneva
Michel Doneda + Antoine Läng duo

–––





The Lodge presents:
Michael Northam
Marcus Maeder
Deer Happy Place
29.09.2012, 20:00
Bazillus Club, Zurich

–––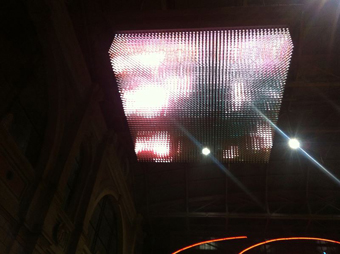 Ambient and NOVA
14.09.2012, 20:00, Hauptbahnhof Zürich
Biosphere (NOR)
Marcus Maeder (CH)
Steinbrüchel (CH)
Live visuals on NOVA: Jasch (CH)

–––





Bernd Schurer: Transmision vectrorial segregada en forma de onda III (1 x 4 canales)
FIAC/Bioterio, Leon, Mexico
Opening reception: 09.08.2012, 7.00 pm
Exhibition 09.08. – 23.09. 2012

–––





trees: Downy Oak
Sound installation, workshop and symposium,
swissnex San Francisco
Artistic realization: Marcus Maeder (ICST)
Scientific research: Roman Zweifel (WSL)
Opening reception: 24.07. 2012, 6.30 pm swissnex San Francisco
Exhibition 25.07. – 17.08. 2012
Workshop and symposium on sound and the environment
25.07.2012, 1.45 – 6 pm: Workshop on environmental and acoustic emission sensor technology, Muir Woods National Monument
26.07.2012, 6.30 pm: Symposium on art, technology and the environment, swissnex San Francisco

–––





Bernd Schurer: Contigency Test
5 electro-acoustic studies on the auditory scene
Sound installation, version 2012
Kunstraum Walcheturm
Opening reception:
Friday, 22 June 2012, 6 - 10 pm
Exhibition duration:
Friday, 22 June - Monday, 2 July 2012
Opening hours:
Monday - Saturday 2 - 6 pm

–––




Der Pfad zur linken Hand (The left-hand path)
A topographical play in Zurich and Graz, 2011
Text, Music: Marcus Maeder
Interactivity, Music: Jasch

The paths of Zurich (Alter Botanischer Garten) and Graz (Schlossberg, Stadtpark) are now downloadable and fully accessible, please visit www.thelefthandpath.net.
All you need is a smartphone with GPS and compass and your headphones. The app is for iPhones as well as smartphones with Android OS.

A Production of ORF Kunstradio and Musikprotoll im Steirischen Herbst Graz

Supported by Swiss Arts Council Pro Helvetia and sitemapping of the Federal Office of Culture.
–––
Merz World: Yona Friedman & Tomas Saraceno
14.4. – 21.8. 2011, Cabaret Voltaire, Zurich
Opening reception 14.4.2011, 18:00
Curated by Maurizio Bortolotti and Adrian Notz

Merz World will comprise contributions on Dada and Merz by Olaf Breuning, Com&Com, Medusa Cramer, Marcel Duchamp, Etoy, Andy Guhl, Carl Michael von Hausswolff, Kasimir Malewitsch and many others.

In cooperation with the Faculty of Fine Arts of the School of Design, St. Gallen. Supported by the City of Zurich.
–––
Sound and Sound Technology as Spatial Parameters
A seminar organized by Sabine von Fischer and Laurent Stalder, chair for architecture theory, ETH Zürich
speakers:
Carlotta Daro, McGill University, Montréal
Sabine von Fischer, Institute gta, ETH Zürich
Marcus Maeder, ICST, Zürich University of the Arts
Olga Touloumi, GSD, Harvard University, Cambridge
Salomé Voegelin, London College of Communication
Thursday, June 2nd, 2011, noon – 7pm
Collegium Helveticum, Meridian-Saal, Zürich
Space is limited.
Register at: sabine.von.fischer(at)gta.arch.ethz.ch
–––
The Sound of a Crisis: Experiencing Catastrophe through Sound. A concert evening presented by the ICST.
30. 3. 2011, 20:00
Cabaret Voltaire, Spiegelgasse 1, 8001 Zurich, 8 p.m.
Matt Elliott (UK, Third Eye Foundation)
Novi_sad (GR)
Florian Grond (A/Ger)
Samuel van Ransbeeck (B/P)
Thomas Hermann (Ger)
–––
Présences Electroniques Festival, Geneva
11.12. 2010, 20:00, l'Alhambra, Geneva
Childe Grangier, Monolake, Marcus Maeder, Pierre Schaffer (played by GRM), Biosphere a. o.

–––

3 X SOLO, NK - Berlin
17.12.2010, NK, Berlin Neukölln
Bernd Schurer plays: 3xMono
also performing: Helena Gough, Robin Hayward

–––


Milieux Sonores. Sound and imaginary space.
Exhibition with Daniel Bisig/Martin Neukom/Jan Schacher, Yves Netzhammer/Bernd Schurer, Felix Profos, Jeroen Strijbos/Rob van Rijswijk Jason Kahn a. o.
Curated by Marcus Maeder, a collaboration of Gray Area Foundation For The Arts, swissnex San Francisco and the Institute for Computer Music and Sound Technology, Zurich University of the Arts.
11.09. - 19.11. 2010, Gray Foundation For The Arts, San Francisco
Book Presentation: Bruno Spoerri's "Musik aus dem Nichts - Die Geschichte der Elektroakustischen Musik in der Schweiz"
23. 9. 2010, 18:30 Cabaret Voltaire
Concerts: Bruno Spoerri, Norbert Möslang, Thomas Korber, Günter Müller, Marcus Maeder a. o.

Milieux Sonores: Sound and imaginary space.
Book presentation, concerts, sound installation
9. 7. 2010, Cabaret Voltaire Zurich
Book presentation, 18:00
Marcus Maeder (Ed.): Milieux Sonores. Klang, Raum und Virtualität
A publication of the Institute for Computer Music and Sound Technology, Zurich University of the Arts
Transcript Verlag, Bielefeld, 2010
With contributions by Daniel Bisig, Sabine Gebhardt Fink, Marcus Maeder, Yves Netzhammer, Martin Neukom, Mathias S. Oechslin und Nils Röller
Flow Space by Daniel Bisig, Martin Neukom und Jan Schacher. Interactive sound installation
Concerts, 20:00

Ambient: The musical reflection of space and environment
Biosphere (NOR)
Asmus Tietchens (D)
Martin Neukom (CH): Studien 18
Marcus Maeder (CH): annex
transcript's book announcement
–––

AUSREIHE presents :
Electronic Music Concert 04
Appearance:
Bernd Schurer [CH] / Daisuke Ishida [JP] / Lee Gamble [UK] / Martin Supper [DE] / Yutaka Makino [JP]
Sunday 27th June, 2010 | 16:00 Open – 20:00 End
Theaterkapelle, Boxhagener Straße 99, 10245 Berlin Friedrichshain

–––




MOS ESPA Festival, Geneva
Marcus Maeder, ROZZOBIANCA, Dejan a. o.
5. 6. 2010, 20:00, Ship 'Genève'.

–––

premiere 'ohr'
24. 2. 2010, 20:00, espace culturel, rennweg 26, biel
Concept, dance : katharina vogel
music: Christian Müller (strøm)
25. 2.- 28. 2. espace culturel, rennweg 26, biel / 3. & 4. 3 dampfzentrale bern

–––

+ Where Were We by Phil Hayes
4. - 7. 3. 2010 - Theatre Usine, Genève
With Phil Hayes (Concept, Performance) and Ewelina Guzik (Performance)
Video: Susanne Hofer
Music: Thomas Peter

–––

9.11.2009, 20:00, Stadtgarten, Cologne
Broken Sound #1:
SoiSong (Ivan Pavlov/COH and Peter Christopherson/Throbbing Gristle, Coil) + Sten Hanson + Bernd Schurer

–––

22. 11. 2009, 20:00
XVI Festival Punto de Encuentro, Valencia
Germán Toro Pérez, Marcus Maeder – Concierto CIME. Obras de Argentina, Suiza, Orquesta del Caos (Barcelona), IMEB e ICST de Zurich. Lugar: Club Diario Levante

–––






domizil and ICST USA/California Tour
Presented by Swissnex San Francisco
and Sonic Circuits Festival Washington,
Supported by the Swiss Arts Council Pro Helvetia
domizil: Swiss electronics at Sonic Circuits Festival,
Washington D. C.
Schurer, Marcus Maeder, Martin Neukom, Thomas Peter, Jasch
Thursday September 24, 7:00 pm
Embassy of Switzerland
2900 Cathedral Ave., N.W., Washington, D. C. 20008

–

Domizil and ICST Zurich at San Francisco Art Institute,
San Francisco Art Institute, Lecture Hall
800 Chestnut Street, San Francisco CA 94133 USA

Saturday, 26. 9. 2009, 8:00 pm
domizil/Marcus Maeder, Schurer, Thomas Peter, Jasch
Concert preceded by a reception.
Featured local artists:


Sunday, 27. 9. 2009, 6:30 pm
ICST/Germán Toro Pérez, Philippe Kocher, Martin Neukom
Featured local guest artists (curated by VOLUME):
Lissom, Christopher Willits, Kadet Kuhne, Sutekh
(playing order tbc)
Co-produced by swissnex San Francisco, VOLUME and San Francisco Art Institute.

–

29. 9. 2009, 8:00 pm
domizil vecherinka at swissnex San Francisco
Smart entertainment. Enchanting people. Since 1996.
An evening with Medusa Cramer, Thomas Peter, Schurer
730 Montgomery Street
San Francisco, CA 94111

–

ICST at University of California, Santa Barbara
Wednesday, 1. 10. 2009
Presentations: 2:00 pm
Concerts: 7:00 pm
With Germán Toro Pérez, Philippe Kocher, Martin Neukom, Jasch, Daniel Bisig

–

2. 10. 2009, 8:00 pm
Domizil and ICST Zurich at Los Angeles Contemporary Exhibitions (LACE),
Los Angeles Contemporary Exhibitions
6522 Hollywood Boulevard, Los Angeles, CA 90028





Co-produced by swissnex San Francisco, VOLUME and LACE

–

ICST at University of California, San Diego
Saturday, 3. 10. 2009
Presentation and Concerts, tbc.
With Germán Toro Pérez, Philippe Kocher, Martin Neukom
–––

Soeben erschienen:
domizil + ZHdK Records release event
18. 3. 2009, 20:00
Cabaret Voltaire, Spiegelgasse 1, 8001 Zürich

strøm: shunt (CD)
Thomas Peter: Medir (CD)
Marcus Maeder: Die Wunschmaschinen (5.1 DVD)

–––

Electron - Festival des musiques électroniques et variantes, Geneva
Marcus Maeder, Schurer, Steinbrüchel and many others
Friday, 10. 4. 2009, check the festival's site for the exact time

–––



Yves Netzhammer/Bernd Schurer: Mutmassliche Windlasten. Image by Lorenzo Pusterla/Kunstaum Walcheturm

16. 1. 2009 – 21. 2. 2009, Kunstraum Walcheturm
Milieux Sonores
A topology of the imaginary space in Sound Art
An exhibition of the ICST and Kunstraum Walcheturm
With Jason Kahn, Yves Netzhammer/Bernd Schurer, Felix Profos/Silvan Gretener, Rob van Rijswijk/Jeroen Strijbos, Daniel Bisig/Martin Neukom/Jan Schacher (ICST).Curated by Marcus Maeder and Patrick Huber.

Exhibition guide (PDF, German)
Essay 'Milieux Sonores' by Marcus Maeder (RTF, German)

–––




13. 11. 2008, 19:00, Hauptbahnhof Zürich
Music by Marcus Maeder for the NOVA Display System by ETH Zurich (Swiss Federal Institute of Technology)
Public Presentation
–––
7. November 2008, 22:00, Etage St. Gervais, Biel
shunt CD release event
Concerts of Norbert Möslang, Günter Müller & strøm / Party with MC Schütz
–––
MMKamp 2008, Dubrovnik (CRO)
Workshops and presentations by: The Interactive Swarm Orchestra, Marcus Maeder, Bernd Schurer and many others!
2. – 7. 7. 2008, Lazareti, Dubrovnik
Supported by the Swiss Arts Council Pro Helvetia
–––
Acousmatic surround play
Die Wunschmaschinen
Based on Anti-Oedipus: Capitalism and Schizophrenia I by Gilles Deleuze and Félix Guattari. Cast: Antonin Artaud, Hélène Barat, Ivan Chtcheglov, Guy Débord, Eliza, Sigmund Freud. Music based on Kraftwerk, Velvet Underground, Nick Cave and Richard Wagner. Directed and composed by Marcus Maeder.

Wednesday, 23. 7. 2008, 7pm and 8.30pm
"40 Years 1968"
Mal Seh'n Kino, Adlerflychtstrasse 6 Hhs, 60318 Frankfurt
www.malsehnkino.de
–––
Synthèse Festival 2008, Bourges (F)
Contribution to the concert of CIME Suisse
Marcus Maeder: "und?"
Théâtre Jacques Coeur de Bourges
–––
Chris Watson
Mike Harding (Touch Music, UK)
ICSTalk: 9. 4. 2008, 19:00
Concert of Chris Watson: 20:30
Cabaret Voltaire, Spiegelgasse 1, 8001 Zurich
A Cooperation of the ICST and the Cabaret Voltaire
–––
SNO 35
SNO Contemporary Arts Project
March 8 to 30, 2008, Marrickville, Sydney, Australia
Opening March 8, 3PM
Tony Riff, Roger Crawford, Andrew Gutteridge, Stephen Little
Sound Artist Program: Bernd Schurer
–––
31. 12. 2007, 20:00
Hotel Schatzalp, Davos
DJ Medusa Cramer, also known as Reducers Mama
–––
13. – 15. 12. 2007, 18:00 – 24:00
kbb (Kültür Büro Barcelona)
Luigi Archetti a. o. – Drawings
Exhibition
–––
7.12. 2007, 20:00
Cabaret Voltaire, Zurich
Tenderenda der Phantast
Acousmatic performance after Hugo Ball by Marc Matter, Marcus Maeder and Bernd Schurer.
7.12. 2007, 20:00
–––
10. 6 .2007 – 21. 11.2007
Swiss Pavillon, 52. Venice Biennal
The subjectivisation of repetition, project A
Installation by Yves Netzhammer, with a 14 channel surround soundtrack by Bernd Schurer.
–––
19. 11. 2007, 21:00
9001, Yokohama (JP), Dorkbots Meeting
Marcus Maeder & The Interactive Swarm Orchestra
Concert
–––
10. 11. 2007 – 19. 11. 2007
Tama Art University, Tokyo, 15. 11. 2007, 15:00
Dorkbotswiss visits Tokyo
Workshop by Marcus Maeder: Independent publishing
–––
9. 11. 2007, 21:00
segment|e
lawrence english : steinbrüchel [cd release «basis»]
Kunstraum Walcheturm, Kanonengasse 20, 8004 Zürich
–––
2. 11. 2007, 17:00 – 20:00
Schulhausanlagen Luchswiesen, Falletsche, Hirzenbach, Zürich.
Soundscapes/Hörlandschaften
Public Presentation of the 3 Sound Installations by Bernd Schurer & Yves Netzhammer
–––
25. 10. 2007, 20:00 + 21:30
Headphone Concerts
Schurer, Steinbruechel, and many others
–––
SHIFT Festival, Basel
25. 10. 2007, 20:00 + 21:30
Headphone Concerts
Schurer, Steinbruechel, and many others
24. 10. 2007, 22:15
The subjectivisation of repetition, project b
linear - recast
Yves Netzhammer/Bernd Schurer
–––
28. 7. – 11. 8. 2007 (.ds until 15. 9. 2007), Davos
Davos Festival 2007
Jasch & Marcus Maeder: .ds – Davos Soundscape
–––
25. 8. 2006, 20:30h, Castelgrande, Bellinzona
Mutamenti – Contrasti
Construction Sonor, curated by Katja Stier.
Performances by Schurer, Luigi Archetti, Intricate, Fennesz and a special appearance by The Young Gods!
–––
22. 6. 2007, 21:00
Sonicdays, Fribourg:
Jasch, Marcus Maeder, Schurer, Steinbrüchel, COH, Fennesz, DAT Politics a. o.
–––
21. 6. 2007, 21:00, segmen.te Kunstraum Walcheturm, Zurich
Steinbrüchel, Sawako
–––
17. 6. 2007 – 23. 10. 2007,daily, 10h – 19h
Karlskirche Kassel, during Documenta 12,
The subjectivisation of repetition, project B
Installation by Yves Netzhammer, with a
12 channel electronic soundtrack by Bernd Schurer.
–––
7. 6. 2007, 21:00, Rohstofflager, Zurich
Substrat (New: Retro!)
Marcus Maeder, Steinbrüchel, Micromusic and many others
–––
Thursday, 22. 2. 2007, 20:00
segmen.te concert series:
Asmus Tietchens, Bernd Schurer, DJ Zipo
Kunstraum Walcheturm, Militärstrasse 20, 8003 Zürich
–––